Shivana is the sweet little girl of friends of mine, Anand and Priya. Irvine World News has written an
article
about her and it was published today. She deserves all the attention. She amazes me with the all the stuff she can remember. When I call them up, She picks up the phone and says "Hello...This is Shivana...How are you?". She sings well too. She is just 2 years old.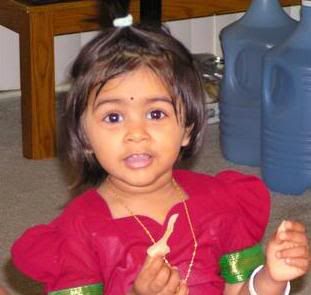 Here is a excerpt from the article,
Live & learn

Shivana Anand can count to 100 and name all 50 states. And she's 2 years old.

STORY, PHOTOS BY NAOMI ULICI IRVINE WORLD NEWS

Shivana Anand of Irvine knows her ABCs, just like any other toddler. She loves stickers and rivals the Energizer Bunny in energy.

But this dark-haired 2-year-old is unique.

She can count to 100 and name all 50 states, their capitals and the president. Add to that all the colors, shapes like hexagons and trapeziums, fruits, vegetables, a dozen or more animals and she can identify them.

.......

I would like to post the pictures from the article, but I am not sure about copyright issues. Please check the link to the
article
instead.