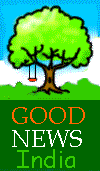 This morning one of my friends sent me this website,
GoodNewsIndia
after reading about it at Chakra's
blog
. Found it interesting.
It is maintained by a 63 year old man, DV Sridharan. Rediff has a good
post
about him.
The
diary
on the website was an interesting read. Truly Inspiring effort.
I subscribed to the e-mail alerts for new stories. I feel good already for linking it. :)